Heidi Rock, Breast Cancer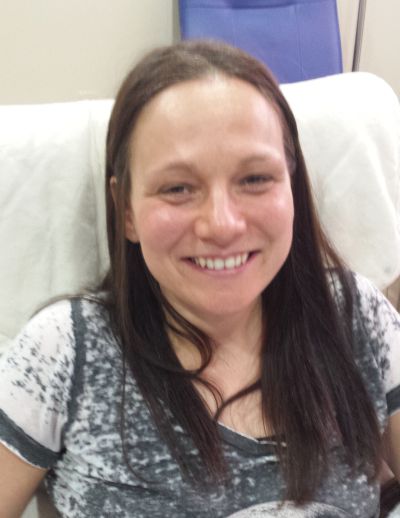 Heidi Rock, Breast Cancer
Name: Heidi Rock
Dear Dr. Lloyd
I wanted to drop you a quick email as I have returned from my 1 weeks treatment and have been following the distance programme for sometime and before enrolling in that we used the essential oil package and followed the guidance available on your website.
At Christmas time 2015 I was very ill after suffering with increasing pain levels. For the previous months my mobility, energy levels and general wellbeing had deteriorated rapidly and the hospital were slow to identify this as a metastatic cancer in my bones despite being high risk due to my previous battle with cancer in 2011. I was finally diagnosed in January but by that time I was using a mobility scooter to get around and other mobility aids to move around my house, get out of bed etc. I had a very heavy limp and was exhausted most of the time. After diagnosis I was offered a dose of radiotherapy to relive the pain but my cancer was determined as terminal. At this point it was still expected to be hormone receptive as my original caner had been and the hospital started injections to induce the menopause. 3 injection later my cancer was biopsied and found to be triple negative and my life expectance went down significantly. The injections were stopped along with the tamxoifen I had been taking for the previous 4 years. As I am sure you can imagine my body was now in a very poor state as it was dealing with an induced menopause on top of the cancer. My husband researched night after night looking for alternatives. It was at this point he came across your clinic and we made some changes straight away. I became vegetarian, we implemented the FOC protocol and ordered the essential oils pack.
Within a few weeks we saw improvements in my energy levels and spurred on we focused on diet using juicing/ smoothies and using quality organic products. We raised the funds to join the distance programme and started the full protocol. We managed to get a home infra red sauna and rebounder and have not looked back since. By the time I booked my visit to the clinic I no longer used my mobility scooter at all, I no longer needed the aids to get out of bed and dress myself. I walk for at least 30 minutes each and every day and have energy levels that match my pre cancer life. The hospital tried to get me to go onto a chemotherapy drug which I tried for 1 round but the impact on my body was so sever and so immediate that I felt confident with my decision to refuse further rounds. The quality of life I have now is unbelievable when I think back to a few short months ago; my family have admitted they thought I was going to die very quickly.
I have returned from my 1 week stay at the clinic with renewed vigour and determination but also with hope and belief in the power of my own body to deal with this. I arrived a day late due to my flight being cancelled but all the staff helped to get me caught up with as many of the therapies as possible. Their kindness, compassion and professional expertise was amazing and I wanted to pass on my extreme gratitude to all of them. I feel very strong and well and have only a very slight limp when I am tired or have been in the same position for too long. I am hoping to book to come out to the clinic again in a few months and no longer feel condemned. I cannot stress enough the magnitude of the change in my life.
With huge thanks and much love,
Heidi & Jason Rock
No Comments
Submit a Comment
Your email address will not be published. Required fields are marked *